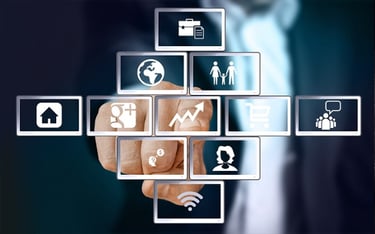 Businesses are not just driven by the motto to generate revenues these days, they also harp on customer satisfaction and lucrative consumer experience, leading to a successful business prospect. Faster the data exchange, better the growth. Thanks to IoT or Internet of Things, all devices are interconnected these days- starting from sensor-equipped manufacturing robots to smartphones. They can now send and receive data, facilitating a wide range of actions in both everyday life and in business. According to experts, there will be an estimated 50 billion IoT connected devices by 2020. But, how exactly will IoT impact the businesses of the future?
Future impact of IoT service on businesses?
Accessibility to huge data resources and the continuous data exchange means that it will become easier to gain insights into product performance and consumer behavior, helping businesses to maneuver solutions that are saleable and effective. IoT also helps in optimizing the business processes and gauging the capacity of the employees and even training them for a purpose. They autonomously execute transactions in supply chains when certain parameters have been met.
Simply put, IoT allows businesses to help its customers manage their workforces as well as improve products and solutions as per consumer requirements. Leveraging IoT for businesses needs a lot of calculation and speculations and it is indeed not a 'one-size-fits-all' proposition. One has to understand if a set up is likely to withstand the demands of an IoT-integration, which of course depends on the size of the business.
IoT impacting start-ups
Devices communicate with each other and that is exactly how an entrepreneur connects to the customers. IoT connects the start-up entrepreneurs with businesses, merchants, business owners, and service providers. For start-ups to succeed in the digital economy, they must be connected with the web, mobile, and IoT apps.
IoT helps in tapping the interest of the customers as they can foster their loyalty and support. However, it plays a much greater role when it comes to placing businesses in the market. IoT is greatly responsible for bringing businesses to a customer's doorsteps and reminding them of their existence.
No more blast off periods
Small businesses can turn into big ones within months. Cool offs and blast-offs are a thing of the past. IoT has bestowed start-ups with speed, which is the call of the day. We are in a world where consumers do not have the time to choose and buy. They are specific about their interests and take decisions within seconds. IoT helps businesses in reading their minds and offering them the best services with the least bit of time. What this means for start-ups is that you no longer have to wait through that mandatory initial growth stage that was a pre-requisite for all new businesses.
IoT in Hospitality and Tourism
IoT is likely to play a significant role in the hospitality and tourism sector, owing to the value it may add to consumer satisfaction. Customized tour packages and easy operations are something that the industries are expecting to tap into. With the potential to change almost all aspects of the travel industry, the IoT will empower organizations to gather informational data collected from various sources to enhance the customer experience. In the airline industry specifically, it monitors customer behavior to discover what they want and offers more personalized services. Some of the information that is deciphered by IoT include pre-flight, post-flight advance booking and in-flight information.
IoT services in Manufacturing
The manufacturing sector usually steers its operations depending on consumer demands. IoT collects data such as product preference, solution customization and consumer demand to provide the manufacturing sector a basis on which they can decide on the line of production. In other words, IoT is creating an environment that helps with decisions for smart manufacturing.
IoT in Healthcare
IoT has significant usage in the healthcare industry. Industries can get the data from medical devices to improve the services for their patients. It goes without saying how hospitals need real-time visibility and intelligence to achieve a new level of efficiency, precision, patient monitoring and safety. According to a study by Aruba Networks, 60% of healthcare organizations have adopted IoT devices into their facilities and 73% have reported cost-saving by adopting IoT.
IoT is that next big thing after Big Data, that allows agility, ease of making business decisions, security and much more.
If you are seeking experts to provide or deploy IoT for your business, you can connect with us at https://www.cirruslabs.io/contact-us/