If you're a CEO of a company, agile and scrum should be very familiar to you. If not, you run the risk of losing productivity and profit in your business. The top 3 challenges for CEOs who are driving change in their organizations to meet with shareholder expectations are:
To prepare organizations to respond to market volatility
To foster growth and innovation
To develop human capital
---

Agile methods help organizations respond to change in a rapid manner. Unlike the myth of agile = chaos, agile methods when implemented correctly have proven to scale and help organizations respond to market conditions and competitors. In this blog post, I will explore some key outcomes that agile provides that support a CEO's most pressing strategic needs for his or her organization.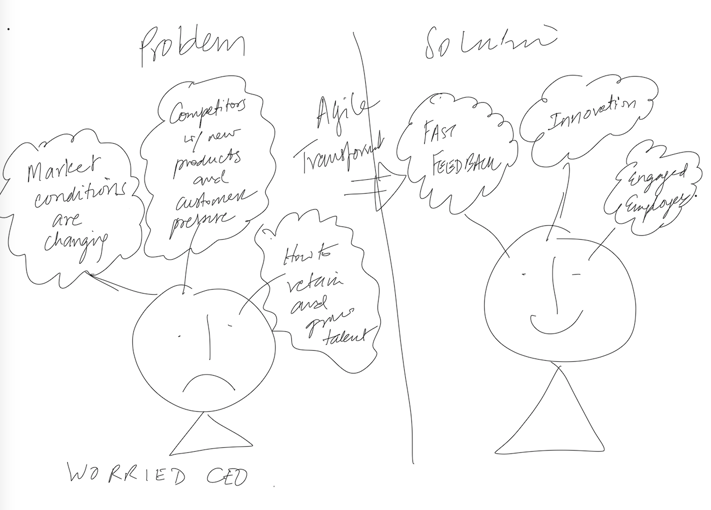 Challenge 1: To prepare organizations to respond to market volatility
The combination of Strategic Planning with Agile Portfolio Managment allows organizations to embrace "Fast Feedback". Organizations that embrace fast feedback are on the path to become Learning Organizations. Every CEO is aware that
1) To create customer success, you have to be able to align your organizations goals and objectives with customer feedback.
2) You have the have an engine to create and deliver incremental features to customers, get their responses to the features and incorporate this feedback to shape your offering as you scale.
Agile methedology has several key events like Release Planning, Sprint Planning, Sprint Retrospective and Release Retrospectives that allow leadership to have visibility into the plan vs. actual. Organizations that implement agile methedology with release orientation, change the focus of their organizations from delivery of projects to customer success. Every activity that is conducted in the organization is "Release Oriented".
Adopting agile practices allows learning organization to get near real-time fast feedback from the customers and adapt to customer needs as well as respond to market changes that may arise from competition or other macro-economic factors.
Agile Portfolio Management enables CEO's to make changes to the strategy with confidence knowing that the delivery organizations are nimble and have the ability to successful change directions as market conditions change giving a true competitive advantage to the firm.
Challenge 2: To foster growth and innovation
CEO's have big ideas and want to diversify their risk in the overall business portfolio. Agile product management enables organizations to create minimum viable products and launch minimum marketable products in the market.
Minimum viable products provide feedback to engineering with regards to the solution capabilitity and feedback on non-functional requirmement (NFR) such as performance. It helps leadership understand that the idea is technically feasible.
Mimimum marketable products provide feedback from the customer at general availability (GA) and product launch on a minimum set of customer usable features. This approach enables gradual rollout, fast feedback, and incorporation of customer feedback to update the product roadmap o address the highest value added features that your customers require.
Agile Product management approaches can help organizations to rapidly develop, release, and market test ideas allowing CEO's to get real data from the feedback loops and strategically invest in growth markets or chose to invest in other segments to create a new category of products or services. An agile product management process can provide metrics to enable informed decision making.
Challenge 3: To develop human capital
Agile manifesto states "Individuals and interactions over processes and tools"
This value statement embodies human empowerment. Agile is a team sport and by using the methedology, CEO's can unleash the potential of their employees and associates to create innovative products and services.
"Agile is easy, change is hard."
In order to transform organizations, CEO's need to create an organization transformation plan that will challenge the status quo, while giving clarity to the employees and embrace a risk taking culture. This requires leadership from the top to create and foster an "safety-net" approach to allow team members to be creative, innovative and risk-takers. Fast feedback loops enable CEOs and teams to take risks in a thoughtful, methodical, iterative manner and incorporate the feedback to change the plan.
Agile environments empowers teams. Empowered teams are driven by engaged team members. Engaged team members create awesome results for the organization.
Conclusion
Agile Transformation is a journey, not a destination. CEO's should consider agile as a strategic intiative to drive business results to create sustainable organization that can create a difference for their customers. Adopting Agile mindset at the executive leadership level can help build a culture of innovation and a culture of comittment. Agile drives these behaviors at every level of the organization. Many leaders consider agile as an "IT thing". It's not. Agile is a mindset and implementing at scale can help you create a successful organization.
Written by Naeem Hussain
Naeem Hussain is the founder of the DC-based management consulting firm CirrusLabs. In this role, he focuses on advisory services for the leadership team of respective organizations for enterprise transformation, scaling agile adoption across the enterprise, creating in-sourcing strategies, and implementing DevOps practices. During his consulting career, Mr. Hussain has worked with large corporate clients such as Capital One Bank, Nemours, Angie's List, Urban Outfitters, Pointroll, General Services Administration, Anthem Health and Transamerica.
With an MBA from the University of Chicago and an M.S. degree from the George Washington University, Mr. Hussain has held various leadership and executive positions with Siemens, ING DIRECT, Capital One and, just prior to co-founding CirrusLabs, as COO of MGRM Holdings. Mr. Hussain also serves as a member of the George Washington University School of Engineering & Applied Sciences National Advisory Council and is an Adjunct Professor for Engineeing Management and Systems Engineering at George Washington University.
---
Start your journey to digital transformation with a solid vision of your digital strategy:
Interested in training to help advance your agile journey? Click the button to view our current list of public training courses! Use code BLOG10 for 10% off!
---